Lightspeed eCom allows you to configure how your customers check out when making purchases through your online store. Access these settings in your eCom back office > Settings > Checkout.
You can select one of the following checkout configurations:
You can also run multiple checkout scenarios simultaneously so that you can run A/B testing to determine the most efficient checkout for your customers and business.
For more information about: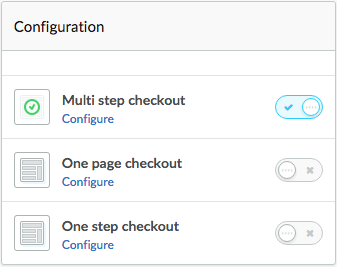 Multi-step checkout
This is the default checkout provided with your theme. Each step involves entering data and/or selecting certain options. Upon completion of a step, your customers simply click Next to proceed to the next step in the process. It consists of five steps:
One-page versus one-step checkout
| | |
| --- | --- |
| One page checkout | One-step checkout |
| As the name suggests, the one-page checkout consists of an area where your customers enter all their data and make their selections on a single page. All the data and steps are identical to the multi-step checkout, except that customers are not redirected to a new page after clicking Next. Instead, the system automatically scrolls to the next step on the page. | The one-step checkout is somewhat similar to the one-page checkout; it too provides all checkout steps on a single page. The main difference with the one-step checkout is that customers proceed through the steps horizontally. Also, this checkout uses a fading effect, which essentially fades successive steps into the background until the customer completes the current step. It is also not necessary for customers to click Next after completing a step; the next step automatically becomes visible. |
| | |