TradeTracker is only available in Europe.
TradeTracker is one of the best known affiliate marketing tools available on the internet. Trade advertising campaigns can be set up via TradeTracker software. These online campaigns are set up in collaboration with a large network of publishers.
In addition to taking care of the distribution of advertisements to publishers, TradeTracker offers useful tools to analyze and optimize the online campaign. This makes TradeTracker an ideal tool to achieve extra conversion and thus increase the success of your company.
If you do not have a TradeTracker account yet, you can register here.
The TradeTracker integration can be found in your eCom Back Office by clicking Settings > Feeds. In the TradeTracker section, click Set up TradeTracker.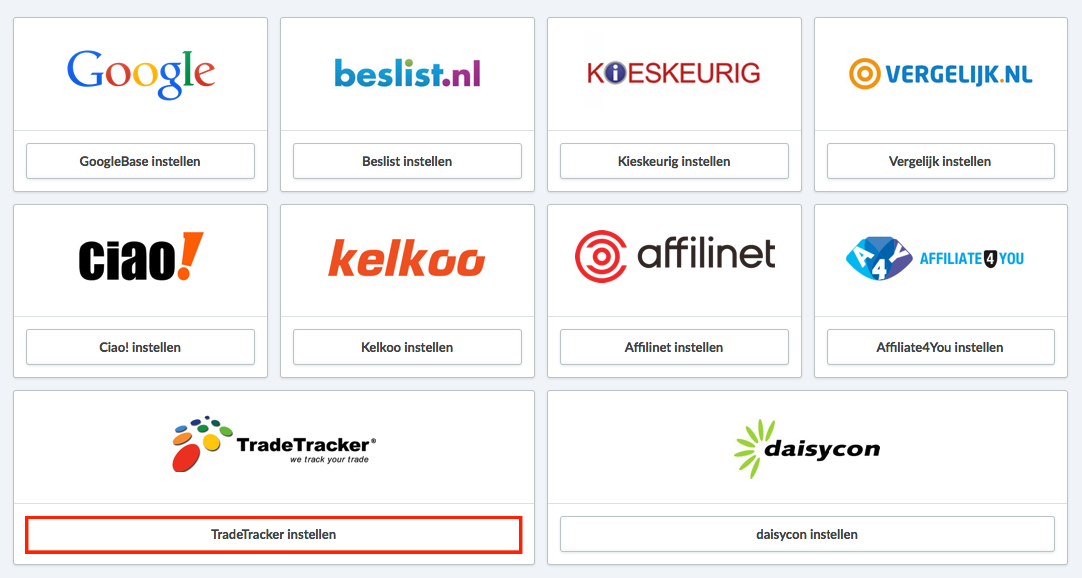 Set up Campaign ID & Product
In order to use TradeTracker integration, a Campaign ID & Product ID is required. Both details are emailed after setting up a campaign in TradeTracker and can be entered in the ANDERS section:
After completing the Campaign ID & Product ID, you activate the integration at the top under the heading STATUS :

Then save the settings via green Save button.
TradeTracker feed
To synchronize your products to TradeTracker, a product feed is available in XML format. The required feed URL can be found under the heading under Settings> Website settings > Feeds > Set up TradeTracker > FEED> Feed path:
Enter this feed URL in your TradeTracker account. TradeTracker will download the products once every 24 hours to update the product information. 
If you want to edit information from feed you can also create a custom feed via Settings > Website settings > Feeds > Go to Custom feeds > Add feed > Copy from> TradeTracker . 
Set up Redirect URL and activate conversion pixel
TradeTracker will ask you to implement a Redirect URL and conversion code in the webshop. This is already regulated from the TradeTracker integration.
The Redirect URL can be found via Settings > Website settings > Feeds > Set up TradeTracker > FEED > OTHER > Redirect URL.
Copy the URL and configure it in your campaign at TradeTracker.
The TradeTracker conversion pixel can be activated via Settings > Website settings > Feeds > Set up TradeTracker > Feed > Other > Conversion tracking:
When you have activated the setting, you save the page via the Save button at the top right of the page. The conversion pixel will now automatically be added to the thank you page.