Configure settings for product pages and inventory management. On the left menu of the Back Office navigate to Settings > STORE SETTINGS > Workflow.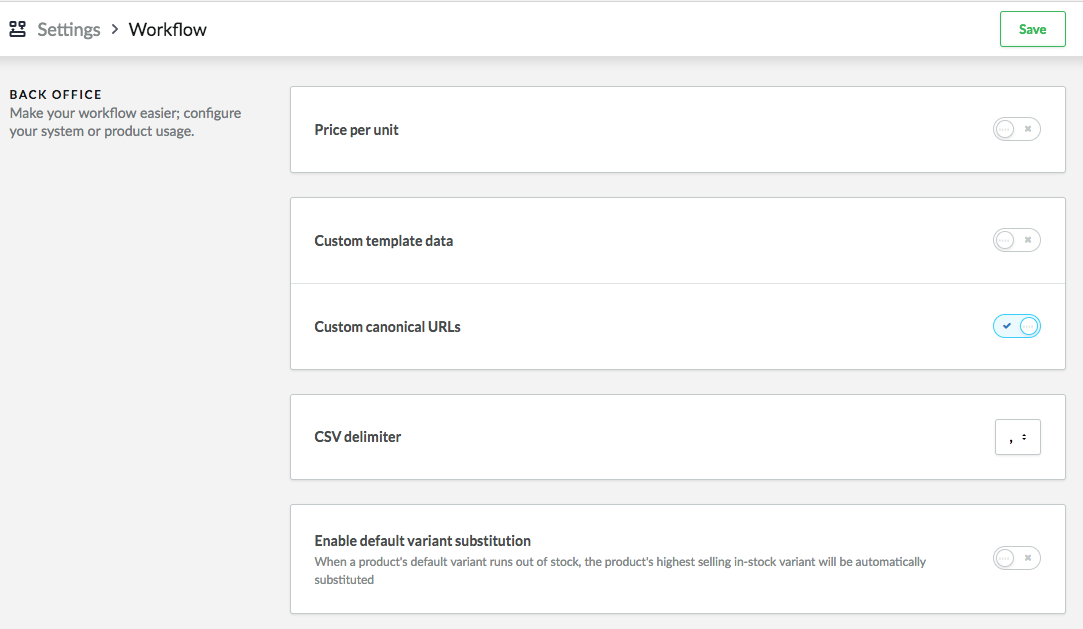 Price per unit - Display or hide unit prices.
Custom Template data - Activate this only if you are familiar with HTML and CSS. Data fields will appear in product pages and you can customize some elements at the product level, and modify them using the Template Editor, currently available in English only.
Custom canonical URLs - If your webstore has some pages with similar or identical content, enable this to use pages with canonical URLs, which are given priority in search results.
CSV delimiter - If needed, you can specify your preferred text delimiter for all your exports: either commas (,) or semicolons (;). Keep in mind that the delimiter applies to ALL exports.
Webstore
Include new categories in catalog - automatically include every new category in your shop or catalog.
Select whether New products should be:

Hidden
Always visible
Show when in stock.
Maintain parent/child relationship
For merchants with a physical retail store connected to eCom, you will find another setting in the Webstore section called:
Maintain parent/child relationship when assigning categories to a product - When a parent category is added to a product, the subcategories are also added to the same product automatically.

This setting is designed to automatically assign the entire category tree to a product that is assigned to one of them. For example:

You have a category group in the following structure:

Clothing

Mens

T-shirts

In your Retail POS, you assign an item to the T-shirts category and publish the item to Lightspeed eCom.

With the setting off, the product is published to eCom in only the T-shirts category.
With the setting on, the product is published to eCom in all three categories.

Even in eCom, if you a Retail item is published to eCom without a category and you assign it to the T-Shirts category in eCom only, the product will be added to all three categories if the setting is on.

Before using the Rearrange Categories button in Products > Categories, it is recommended this switch be turned off. When rearranging categories and the setting enabled, moving category A into a subcategory B by accident will automatically add all products in category A to category B. This mistake cannot be reversed except by manually sorting your products into the correct categories. For more information about rearranging categories, click here.
Inventory
Order quantity for new products - The minimum and maximum amounts of products that customers can order. The default minimum is usually 1.
Track inventory - Activate to track whether ordered products are deducted from stock.

Activated: Notifies you when the number in stock for products reaches below the minimum, and checks the status of Allow backorders.
Deactivated: Does not notify you when the number in stock for products reaches below the minimum. Customers can order out of stock products.

You can check from Products > Inventory whether the number in stock of a product is below the minimum inventory level. The quantity for the product will be displayed in orange.
Allow backorders - Allow purchases when products are not in stock. Note: Products will always be visible in your shop if you select this option.
Default stock level for new products - Default number in stock for new products.
Notify when inventory is below - Minimum quantity of stock that should be in inventory. When stock hits or falls below this level, the Quantity for the product displays in yellow on the Inventory page, as well as in the INVENTORY & VARIANTS area on the product's edit page.
Minimum quantity in stock - Enter the number of products to reserve. Products will be considered out-of-stock when your inventory level reaches this number. For example, type 1 to display an out-of-stock message when the inventory level is at one.
Packing Slips

Sort products by – Sorts the products on the packing note by the option you select, for example, by their article code.
Label rotation - Applies to shipping options such as Paazl, bPost and PostNL, which allow shipping labels to be placed horizontally or vertically.
Label alignment - Applies to shipping options such as Paazl, bPost en PostNL, where shipping labels can be aligned to the left or right.
Advanced options – Click to set these packing note options:


Hide the shipping label - Applies to shipping options such as Paazl, bPost and PostNL where you can deactivate shipping labels.
Hide the EAN code – Do not show the EAN code on the packing note.
Show the HS code – Displays the HS code on the packing note. Some shippers require HS codes for international shipments.
Hide customer contact information– Activate to hide a customer's contact information on the packing note.
Swap billing and delivery address – By default, the billing address is listed at the bottom left of the packing note and the delivery address at the right. Activate this to swap their positions.
Use order number as barcode (instead of the shipment ID) - If you ship through Paazl One-click-shipping, the order number will have to be used as a barcode. Choose this to use the order number as a barcode on packing notes.
Order notifications
Configure automatic emails for orders. When this option is turned OFF the following emails are not sent:
Order invoice - Sends customers an email with the order data and accompanying invoice (PDF) after they place an order.
Order confirmation -  Sends customers a confirmation email after they place an order.
Order paid - Sends customers a payment confirmation email after they paye for their order.
Order cancelled - Sends customers a confirmation email after they cancel an order.
Order status
You can configure custom statuses for your orders.
In the left menu of your Back Office go to Settings > SHOP SETTINGS > Workflow.
At the bottom of the page you will find the Order status section. Click on Add New Status.
Enter the desired status in the pop-up window under Title.
Choose a desired color for the order status via the color picker.
Click Add at the bottom right of the pop-up window.
For more information, visit Adding a custom order status.